Put yourself in the shoes of Brazilian football star Neymar da Silva Santos Júnior, better known as 'Neymar Jr', and you'd be dancing the cucaracha all the way to the bank. He's one of the highest paid athletes in the world, and just so happens to be lucky at the online poker tables as well. But after winning a single hand earlier this week worth €17.8k (approx. £13k GBP, or $20k USD), he found his UK sponsorship deal with PokerStars on the rocks.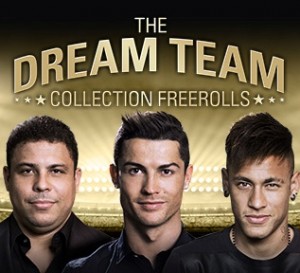 Neymar was obviously ecstatic when he won the poker hand, taking a snapshot and posting the picture on his Instagram account (shown right). He had pulled the nuts on the river, landing a Royal Flush in spades to take down the enormous €17,810 pot.


OnlinePokerRealMoney.co.uk tries to dispel some legal confusions stemming from passage of George Bush's UIGEA of 2006 . Federal status seems to depend on interpretation of the wire act and other laws which were crafted many years ago and which remained high level in nature. The United Kingdom has much clearer laws including their own real money gambling commission .
But how happy can you be about winning that much money when it doesn't even comes close to matching the weekly salary you earn at your day job? According to Neymar Jr's profile on Forbes, he is estimated to be worth about $31 million, thanks to signing €12 million per year contracts in football and endorsement deals.
That puts Neymar's weekly paycheck around €230.7k, or about €32k per day; nearly triple what that beautiful poker hand was worth.
The 23 year old awe-inspiring athlete may be on top of the world, but according to the UK Gambling Commission, he is too young to be depicted atop PokerStars' promotional ad campaigns.
Neymar Jr has been featured in the spotlight of PokerStars Dream Team Collection, his handsome mug exhibited in marketing creatives alongside those of retired Brazilian footballer Ronaldo Nazario and Portuguese football pro Christiano Ronaldo. Thanks to a recent ruling from the Gambling Commission, Neymar can no longer appear in ads targeting the UK.
The laws of the UK are somewhat anomalous when it comes to legal age ranges. Once an individual turns 16, they gain the right get married. At 17, they can obtain a driver's license. Gambling and the consumption of alcohol become legal at the age of 18. But to promote gambling activities, you must be much older.
The UKGC website defines eligibility as: "No one who is, or seems to be, under 25 years old may be featured gambling or playing a significant role."
As a result, PokerStars sent out a missive to all of its affiliates requesting that they cease using the PokerStars Dream Team Collection image featuring the young FC Barcelona striker in UK-facing adverts. For the moment, Neymar Jr's visage has been replaced by that of Canadian Daniel Negreanu, PokerStars Pro and esteemed leader of the world's poker all-time money list with over $30 million in live tournament winnings.
Despite Negreanu's laudable prowess as a professional poker player, his face isn't going to do as much for bringing in new poker players on PokerStars as that of Neymar Jr. The Brazilian football star has an enormous fan base that includes 53.6 million likes on Facebook, 30.3 million followers on Instagram, and 19.6 million on Twitter.
Neymar's sponsorship with the online poker giant still exists, and affiliates are still permitted to use creatives featuring the FC Barcelona super-star, so long as they do not gear their advertisements towards the UK.