You're in the midst of an online poker tournament. The competition is fierce, but you have an extraordinary hand and are about to double your stack to a leading position when all of a sudden – disconnection strikes! If you're a member of 888Poker, chances are you know exactly what that moment feels like.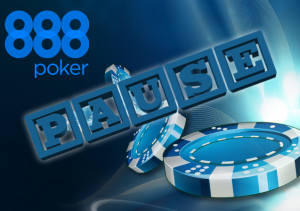 Several major poker sites, especially 888, have been experiencing an outrageous amount of disconnections over the last year, often blamed on Distributed Denial of Service (DDoS) attacks.


OnlinePokerRealMoney.co.uk tries to dispel some legal confusions stemming from passage of George Bush's UIGEA of 2006 . Federal status seems to depend on interpretation of the wire act and other laws which were crafted many years ago and which remained high level in nature. The United Kingdom has much clearer laws including their own real money gambling commission .
From October to November of 2014, the amount of complaints coming in from 888Poker customers was extraordinary, and those who were participating in an online poker tournament at the time often paid the heftiest price tag as their stacks were automatically blinded out of contention.
To combat the situation, which has mounted once more in the last few weeks, 888Poker has integrated a new system with a special Tournament Pause feature. The new system allows the operator, with the virtual flip of a switch, to instantly pause all tournament action if a mass disconnection issue occurs. By doing so, all player positions and chip counts are frozen until the issue is resolved.
Once players are able to reconnect, 888 will have the option of flipping the switch and resuming the tournament exactly where it left off, or, if necessary, they can cancel the event altogether. In the event of a cancellation, all information from the tournament at the time it was paused is saved, allowing the operator to properly reimburse players according to the official 888Poker Disconnection Policy.
888Poker Tournament Cancelation/Refund Policy
According to the terms, extensive "server issues, widespread connection problems" and "ISP network issues" are all grounds for tournament cancellation. Any player eliminated prior to cancellation will not receive a refund. Those still active will be refunded any buy-ins, re-buys or add-ons purchased, and knock-outs earned.
Furthermore, the policy states 888Poker will "refund players who were not eliminated from the tournament at its time of cancellation using a formula based on: (i) a player's chip count; (ii) the prize pool structure; and (iii) the prize pool actually collected from players or the guaranteed prize pool", (minus the buy-ins, re-buys, add-ons, and/or knock-outs previously refunded).
888Poker Responds to Disconnection Complaints
The complaints have been mounting at TwoPlusTwo, and that's where 888Poker chose to first announce the introduction of the new Tournament Pause feature last week.
"888poker has experienced intermittent disruptions of our service to you due to problems with our internet service provider (ISP) during the last two weeks," wrote a representative from 888. "Resolving the connectivity issues is our top priority and we are working with our partners to ensure the interruptions come to an end."
The rep then detailed the minutiae of the pause feature. "Tournament clocks will stand still during this pause – same as in the hourly break of tournaments. We will resume activity once the network returns to normal behaviour or cancel tournaments altogether, ensuring players are automatically refunded in accordance with 888's disconnection policy."