Anyone who knows poker in the UK knows of Rob Yong. He's an avid poker player, a shrewd business man, and the owner of Dusk Till Dawn, one of the most popular live card rooms this side of Europe. A chance to compete one on one against Yong is something any poker fan would and should aspire to. And the ability to win $25,000 of his own money sure sweetens the pot.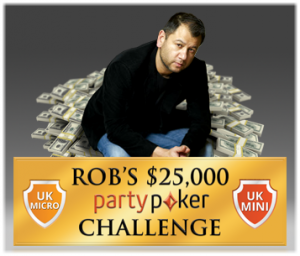 That's exactly what Yong has challenged the UK poker community to do. Yong has become rather famous for putting his money where his mouth is, and this time around, it's $25,000 in cold hard cash. And for anyone who completes the prerequisite tournament challenge to face him won't have to put up a single coin of their own for a shot at winning it.


OnlinePokerRealMoney.co.uk tries to dispel some legal confusions stemming from passage of George Bush's UIGEA of 2006 . Federal status seems to depend on interpretation of the wire act and other laws which were crafted many years ago and which remained high level in nature. The United Kingdom has much clearer laws including their own real money gambling commission .
Yong's $25,000 UK Poker Challenge
Not just anyone can challenge Rob Yong for his $25,000. In order to face off with the DTD owner in an epic heads-up battle, you'll have to complete two tasks to prove your worthiness. You'll also have to be a member of the Dusk Till Dawn Live Club, but that's the easy part.
First, you'll need to enter the $5.50 Daily UK Major, which carries a $2,000 GTD prize pool and kicks off at 7:00pm nightly. Next on the menu is entry to the $27.50 Daily UK Major, featuring a $10,000 GTD prize and 8:00pm start time. Don't worry about your bankroll though. If you qualify in the $5.50 edition, you'll win a ticket to the $27.50.
Any player who manages to reach the final table of both poker tournaments in the same day, and without using a re-entry, will earn the right to compete against Yong for the $25k prize. But you'll need to act quickly, because the Rob Yong Challenge is only valid until the end of this month, August 31, 2015.
Both of these Daily Majors can be accessed in person at DTD, or online via PartyPoker. They are part of a newly introduced regiment of live and online poker tournaments that add $400,000 in monthly guarantees to the overall tournament menu.
UK Team Challenge
Rob would do well to keep his skills fine tuned this month, because he's likely to face some stiff competition from anyone who qualifies to compete against him. The new UK Daily Majors are part of DTD and PartyPoker's UK Team Challenge, which has drawn a great deal of attention from poker players all over Great Britain and Ireland.
The UK Team Challenge is a special promotion in which players join teams and earn points competing in tournaments. Once a team generates enough points, its members earn a seat in a live freeroll competition at DTD with a £35,000 prize pool up for grabs.
The UK Daily Majors are currently delivering points for the UK Team Challenge, which means hundreds of the most avid poker players in the region are gathering at the live and online poker rooms to compete every night.
The UK Team Challenge will carry on beyond the expiration of Yong's $25k heads-up challenge, but registration for teams ends the same day, August 31.