Every year, the Grosvenor UK Poker Tour (GUKPT) travels the United Kingdom hosting poker events at major casinos throughout the region. The largest annual event on the tour is known as The Goliath. This year's rendition attracted a record-breaking field, topped by England's own Miikka Toikka.
The GUKPT Goliath has grown immensely popular over time, with the field far exceeding its previous size with each passing year. Last week's running was so large, in fact, that few poker events across the globe, outside of the prestigious World Series of Poker, could rival it.


OnlinePokerRealMoney.co.uk tries to dispel some legal confusions stemming from passage of George Bush's UIGEA of 2006 . Federal status seems to depend on interpretation of the wire act and other laws which were crafted many years ago and which remained high level in nature. The United Kingdom has much clearer laws including their own real money gambling commission .
In 2012, The Goliath attracted 1,954 entrants, escalating to 2,570 in 2013. That number grew again in 2014 to 3,394, reaching a record breaking field of 4,210 in 2015.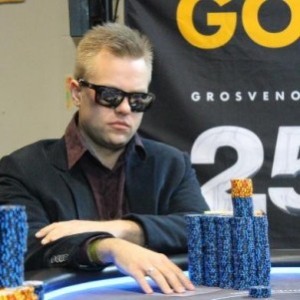 The massive tournament took place at the Grosvenor G Casino in Coventry, England, and due to the enormity of the field, was allotted 7 days of starting flights. By Sunday, officially Day 3 of the event, the final table of nine was reached, with Miikka Toikka sitting on an impressive chip lead of 27,220,000 to kick things off.
Grant Ferguson was the first to exit the table at the hands of Toikka, earning £3,100 for the 9th place finish. Andrew Mossop followed him out the door with an 8th place cash of £3,800. Next to exit were Ben Boulden (7th, £5,900), Andrew James (6th, £8,400) and Philip Bain, whose 5th place finish earned him the first 5-figure cash of the evening, £12,650.
Toikka then got back to work by eliminating Sunil Moti, whose 4th place exit was good for £20,200. He followed that up with a killing blow to Ryan Meager, who collected £29,050 for the 3rd place elimination.
That left Miikka Toikka, a successful computer technician from Liverpool who specializes in cyber security and malware, to face off with Katie Swift in the final heads-up battle. A phenomenal poker pro with more than 30 cashes and over £100k in winnings since 2009, Swift had already fought her way back from a large deficit, having carried just 6.06mm chips into the final table.
Swift was up a creek without a paddle at that point, though. Having personally eliminated the last two contenders, Toikka was up a staggering 95 million to Katie's meager 9.5 million chips. It was only a matter of time before the Liverpool native claimed the rest of them, and a fleetingly short time, at that.
Being so far behind, Swift was seeking any suitable opportunity to move all in, hoping for a few double-ups to get her back in it. The first chance came on the second hand of heads-up play. With Kx Jx underneath, she shipped her stack, and Toikka was quick to make the call, tabling Ax 4x.
The Flop came down Ax Kx 10x 10x 3x, sealing the deal for Miikka and sending Swift to the cashier cage to collect an impressive runner-up paycheck worth £46,300; by far the largest cash of her career to date. Toikka claimed the 1st place prize of £75,800 and the esteemed honor being named the 2015 GUKPT Goliath Champion.
2015 GUKPT Goliath Final Table Results

1st
Miikka Toikka
£75,800
2nd
Katie Swift
£46,300
3rd
Ryan Meager
£29,050
4th
Sunil Moti
£20,200
5th
Philip Bain
£12,650
6th
Andrew James
£8,400
7th
Ben Boulden
£5,900
8th
Andrew Mossop
£3,800
9th
Grant Ferguson
£3,100