When you're hot, your' hot, and right now, UK poker pro Jon Spinks is on fire! He landed himself in a trio of final tables at online poker's Sunday Majors last weekend, including an outright victory at the PokerStars Sunday Warm-Up on August 16. All told, Spinks raked in over $70,000 on the virtual felt in a single night.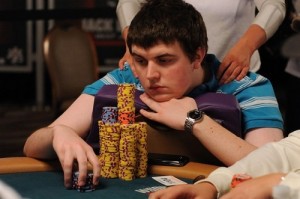 Spinks started his phenomenal winning streak at PokerStars, where he's widely known around the community as "LUFCBas". Joining a field of 2,415 in the weekly $215 Sunday Warm-Up, with $400k GTD, Jon systematically whittled his way down to the final table.


OnlinePokerRealMoney.co.uk tries to dispel some legal confusions stemming from passage of George Bush's UIGEA of 2006 . Federal status seems to depend on interpretation of the wire act and other laws which were crafted many years ago and which remained high level in nature. The United Kingdom has much clearer laws including their own real money gambling commission .
When the competition fell to just three remaining, "LUFCBas" agreed to pause the action with fellow Brit, Phill "Grindation" Mcallister, and his other opponent, "yadio", long enough to reach a 3-way pot chopping deal.
After the tournament resumed, Grindation became the first victim, collecting a cool $52k for the 3rd place finish. Yadio was out next, scooping a respectable $59k as runner up. That left Spinks to pocket the 1st place prize of $63,170.
That figure would have been significantly higher had he not agree to the deal, but I doubt he felt little regret in celebrating the win.
In fact, Spinks was in such a good mood at that point that he signed on to his PartyPoker account, "FundMyMitaz", and grinded his way into the final table of the $150k GTD Sunday Major there as well.
His run didn't delve quite as deep this time, but he did manage to work his way into a 7th place finish worth $4,887. "Partydefrigged" went on to win that tournament for the top prize of $25,127.
Again, young Spinks wasn't ready to call it quits. They say the third time is the charm, and it certainly was for the young UK poker pro. This time, he pulled off another final table at 888Poker's $30k GTD Crocodile, heading to the rails in 4th place for another $4,860 payout.
Hailing from Brighton and Hove in East Sussex, Spinks has been grinding the live and virtual felt for at least 8 years now. In that time, he's racked up well over $4 million in online tournament cashes, and another $730k in live events.
In 2013, the prodigious Brit pulled in the largest score of his career thus far at Season 9 of EPT Deauville. Spinks, along with 282 other participants, entered a $2,200 NL Holdem event, outlasting them all to bank $192,586 (€141,200).
In the last year, Spinks vowed to spend less time rounding the tournament tables so that he could focus on high-stakes Pot Limit Omaha cash games. While he stuck to that plan for a little while, Jon has clearly worked his way back into the tournament action, and it's hard to argue with that decision after the way he performed on Sunday.
Thanks to his immaculate performance, Jon Spinks is now ranked among the top 20 current online poker tournaments players in the UK and Ireland. He is also ranked 120th on the all-time money list for UK poker pros.