When we think of Cinderella stories that revolve around the game of poker, the first tale that comes to mind is that of 2003 WSOP Champion Chris Moneymaker, who turned a $40 satellite entry into a $2.5 million Championship. Tommy Yates may not have raked in a 9-figure payday this year, but his fairytale appearance in the 2015 WSOP Main Event is nonetheless inspiring after he turned a single $0.01 into $19,500.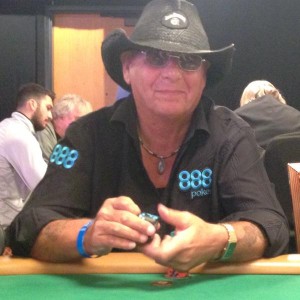 At 58 years of age, Tommy Yates had never achieved a live poker tournament cash – at least not one worth documenting. But from his home in Rhodes, Greece, where he's spent the last 22 years, he does enjoy playing on the virtual felt at 888poker.
That's exactly where Tommy was earlier this year, seated comfortably in front of his computer and browsing the online poker lobby for a game. What he happened across was a steps satellite to the 2015 World Series of Poker Main Event, with the cheapest palpable buy-in one could possibly ask for; a mere $0.01.


OnlinePokerRealMoney.co.uk tries to dispel some legal confusions stemming from passage of George Bush's UIGEA of 2006 . Federal status seems to depend on interpretation of the wire act and other laws which were crafted many years ago and which remained high level in nature. The United Kingdom has much clearer laws including their own real money gambling commission .
$0.01 WSOP Satellite sends Yates to Vegas
Yates invested his hard-earned money, never expecting to win the ultimate prize; a $13,000 prize package to the WSOP Championship in Las Vegas, Nevada. To his amazement, he outlasted all of his competitors in the first step, then again in the second, third, fourth… all the way to #6. Before he knew it, Tommy was packing his bags and heading for the airport.
Tommy Yates wasn't alone on that flight, though. He was one of 128 online poker qualifiers that earned their ticket to Vegas through 888poker, whose recent partnership with Caesars (WSOP's owners) in launching WSOP.com in two US states earned the operator a solid sponsorship deal for poker's biggest event. But while the vast majority of Yates' fellow qualifiers were falling to the wayside, the 58-year old British native's story would last quite a bit longer.
Donning a dark button-down shirt embroidered with 888Poker's bright blue logo and a black cowboy hat, Yates took to the tables at the Rio All-Suite Hotel & Casino, where he found his impeccable performance back home carrying over.
Yates had never played in anything like the WOSP before, so his strategy was a simple one – to play extremely tight in hopes of keeping his stack alive for as long as possible. He maintained such a tight stance, in fact, that he folded premium hole cards on numerous occasions to ensure his safety in the tournament.
Eventually, Tommy's fairytale ride did come to an end, finishing in 486th place for $19,500; a phenomenal return on his original $0.01 investment. Disappointment was far from his mind as he left the tables to collect his payday, offering a brief statement to the press who had been following his amazing performance.
"I don't think there were any tighter players than me in the whole Main Event," said Yates when commenting on his gameplay. "I threw away, preflop, cards like Ax-Kx and Qx-Qx.
"It might look stupid to you, but I was so motivated to pass the bubble, that when that moment came, I felt like I'd won the bracelet and $8,000,000," Yates exclaimed. "It was one of the happiest moments of my life!"
WSOP Cinderella Stories: Moneymaker VS Yates
Who has the better Cinderella Story?
Moneymaker is the obvious choice, but let's look a bit closer.
Chris Moneymaker entered a satellite for about $40 and won $2.5 million in 2003. That's a 62,500% return on his investment, and enough money to keep him set for the rest of his life, if managed wisely.
Tommy Yates may not be rolling in millions, but investment wise, his was the better deal by far. Paying just $0.01 to win $19,500 equates to a return of 1,950,000% – nearly 2-million times his investment.